MP4 to MP3
Convert online and free MP4 to MP3
Uploaded filetype:
Choose filetype:
Advert:
The mp4 format is one of the most common formats on the net, because the video container is particularly efficient when it comes to saving and is also used for streaming over the net – you can access mp4 files (unnoticed) even if you are watching videos on platforms such as Watch Vimeo or YouTube. Now it is important to know when you need to convert mp4 to mp3 in order to play it better and why you should convert mp4 to mp3 in many cases in order to pull only certain parts out of the mp4 container. In principle, unlike other file extensions, the mp4 format is not particularly meaningful when it comes to the content. Because an mp4 can contain not only video content, but also audio formats. It becomes particularly strange when an mp4 does not even have the file extension mp4, because there are different file extensions that indicate the content. However, these endings are not mandatory, but have been proposed by Apple to clarify content and to use certain additional functions. An example of this is about an m4b file. This format from mp4 stands for an audio book (audio book) in which bookmarks can also be set. This is where it can be worthwhile if you convert the mp4 to mp3, because many of the sub-formats of mp4 can no longer be played on older devices. Or are unsuitable, for example, to serve as a ringtone. Converting Mp4 to mp3 can also be useful if you want to extract a sound file from a video file – for example, you can load a music video and use the audio track as a ringtone. This extraction can also be useful when sending mp4 files between editing programs in order to separate the audio track. In addition, mp3 is a very simple method to compress audio files. Although this involves losses in terms of sound quality, these losses can usually be overcome when sent via email and saved on devices with limited storage capacity.
Easily convert mp4 to mp3
In order to be able to convert mp4 to mp3, you do not necessarily need dedicated software on your computer, but at least audio programs are necessary to recode the data. The fast online converter file-converter-online.com shows that this can be done differently, with which you can easily convert mp4 to mp3. A simple upload of the mp4 file is sufficient and regardless of the file extension, the mp4 is encoded in a space-saving mp3.
MP3 is more common than MP4
With an mp3 you have a handy file extension, with which you can send audio files in a space-saving manner and ensure that your recipients can open them on any device. Especially when your receivers access the audio data on the go, you are doing them a favor with the efficient coding. For personal use of the versatile mp4 format as mp3, you can use practically any downloaded YouTube video as an audio file and thus easily create new ringtones or listen to podcasts and newscasts even without online access on the go.
Guide: Convert MP4 to MP3 online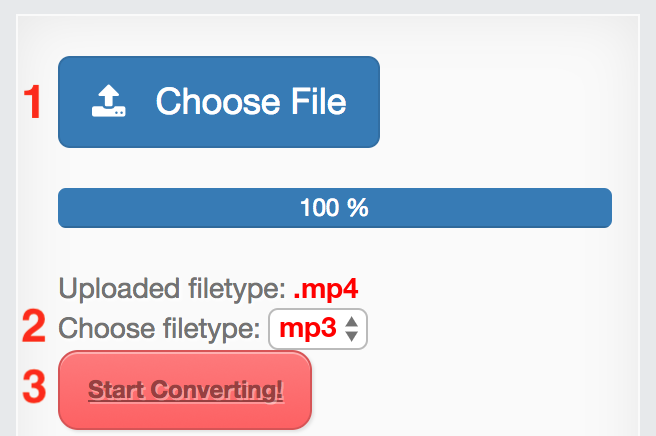 Choose input MP4 file
Check target filetype and change if required (MP3)
Hit the "Start Converting!" Button
That's it! Your download will start automatically on the following page
Currently we support the following conversions with MP4 files:
All Converters
Information about the extensions for the conversion from MP4 to MP3
From: MP4
MP4 is a container format that can include multimedia content such as video and sound tracks, graphics, 2D and 3D animations, subtitled texts, interactive applications in the form of menus, and much more. Despite the strong compression, a file in MP4 …
File extension:
.mp4
More information and converters for MP4
To: MP3
MPEG-1 or MPEG-2 Audio Layer III, mostly known as mp3 or MP3, designates a format for coding digital audio data. MP3 still ranks among the most popular formats for storing audio data. In the early 80s, the German Fraunhofer Institut developed MP3 as …
File extension:
.mp3
More information and converters for MP3
Video-Tutorial: MP4 to MP3
File-Converter-Online.com is a service for converting files online from one type to another. We take care of your privacy and take care of your files. As a part of this, there's no registration required on file-converter-online.com. As we're offering our service in a browser, it does'nt matter whether you use Windows, Apple OS X or Linux. Your conversion results will always be at the same, very high quality and of course, without watermarks.